Mar's Wark in Stirling Old Town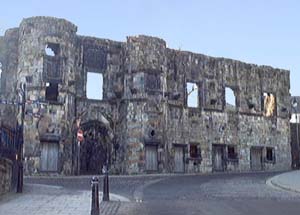 Places to Visit around the Town of Stirling
Situated at the top of Broad Street, just down from Argyll's Lodging on Castle Wynd.
Commissioned around 1569 by the powerful Earl of Mar, heriditary Keeper of Stirling Castle and one time Regent of Scotland during the minority of James VI. The Earls of Mar were originally the Erskine Family who were appointed by David II as heriditary keepers of Stirling Castle.
The shell of a splendid renaissance style town house is all that remains of a once, grand building at the head of the Old Town. The facade of Mar's Wark is decorated with stone carvings, panels, gargoyles and much of the stone would have come from the ruined Cambuskenneth Abbey.
The 11th Earl of Mar supported the Jacobite cause and following the failure of the 1715 rebellion, the house was converted into barracks. During the 1745-6 rising it was damaged by cannon fire and fell into ruin.