Hotels in Stirling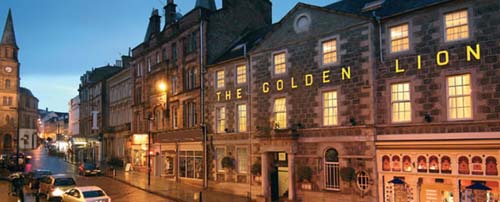 Find the hotel in Stirling that is right for you. Maybe you would like to be near to the railway station, right in the centre of town, close to stirling castle, the wallace monument or stirling university. All of the best hotels in Stirling are included in this guide.
Check availability and make a reservation. On every stirling hotel page you can check availability and make a booking instantly. If you are looking for a hotel room now, then check late deals available today at hotels in Stirling.
Contact Hotels direct. If you have any specific requirements and would like to communicate with any of the hotels that you have selected, please use the e-mail links on hotel pages to make your enquiry.
---
If you would like some advice, please contact stirling hotel enquiries, let us know where you would like to stay and we will find the right hotel accommodation for you.
Make your reservation with a Stirling Hotel in the centre of the city or in a historic location. Stirling Highland Hotel is situated in the old town and was once the High School of Stirling. The Golden Lion Hotel has looked after travellers to Stirling since 1786, even Robert Burns has stayed there. The King Robert Hotel Bannockburn is situated on the site of the historic Battle of Bannockburn, Stirling Hotel Colessio is situated on Spittal Street in the old town, on the main approach to Stirling Castle.
Use our accommodation guide to find the right hotel room for a one night stay or for a longer vacation. On the next page of this guide, you can find more hotels around the Stirling area.
---
Spittal Street
Stirling FK8 1DU

Dating back to 1854, Stirling Highland Hotel is sited in the old High School of Stirling. Many of the original school house features have been retained, including a fully working observatory at the top of the building. Located in Stirling's Old Town, very near Stirling Castle and the Tolbooth...
---
---
8/10 King Street
Stirling FK8 1BD
The Golden Lion Hotel has looked after travellers in Stirling since 1786. The Golden Lion is one of the main focal points of historic Stirling and is located in the heart of the city next to the best shops, restaurants and pubs. For more than two centuries, the Golden Lion Hotel in the heart of historic Stirling has welcomed guests including royalty and even Rabbie Burns...
---
---
33 Spittal Street
Stirling FK8 1DU
Scotland
Hotel Colessio is a unique venue that has been transformed to offer unrivalled luxury and facilities. This Victorian landmark hotel includes 40 rooms and suites, Hotel Colessio is Stirling's newest and most luxurious 5-star hotel...
---
---
12 Victoria Square,
Stirling FK8 2QZ
Scotland
Victoria Square Guest House is a beautiful Victorian building situated in the peaceful and prestigious Kings Park area of Stirling. offering a selection of distinctly styled en suite rooms...
---
---
University of Stirling
Stirling
FK9 4LA
Situated on the University of Stirling campus amidst 300 acres of beautiful parkland. Enjoy 3-Star accommodation in one of the 101 deluxe en-suite rooms, each fully equipped with the necessary creature comforts to ensure a comfortable and stress-free stay. The Abbeycraig restaurant serves a wonderfully varied selection of dishes...
---
---
Forthside Way,
Stirling,
FK8 1QZ
Premier Inn, Stirling City Centre is in a convenient location. Relax in style in one of the new generation bedrooms, each featuring an impressive 40" flat screen TV, freshly-updated bathroom with large shower head, and brand new king-size Hypnos bed...
---
---
Forthside Way,
Stirling,
FK8 1QZ
Ideally situated, Premier Inn Stirling south is 3 miles (4.8 km) from Stirling Castle and Stirling Train Station, providing the perfect base from which to explore the area. There is free on-site parking and a 24-hour reception at this Premier Inn...
---
---
Springkerse Business Park
Stirling FK7 7XH
The Express by Holiday Inn Stirling, offers accommodation for the price conscious business and leisure traveller. With hotel accommodation to suit everyone, the hotel has 80 guestrooms located across 3 floors, with elevator access...
---
---
Glasgow Road
Bannockburn
Stirling FK7 OLJ
Situated on the site of the historic Battle of Bannockburn next to the Bannockburn Heritage Centre, the King Robert Hotel offers excellent value family accommodation in Stirling. The perfect base for seeing all that Stirling has to offer. The King Robert Hotel offers facilities for the business traveller and leisure guests alike....
---
---
>> Bed and Breakfast accommodation in Stirling.
>> Self catering accommodation in Stirling.
---