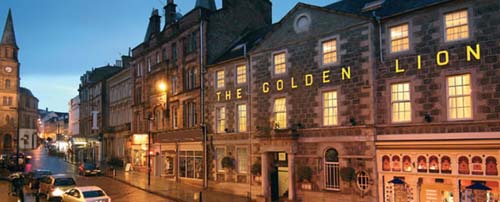 8/10 King Street, Stirling FK8 1BD
The Golden Lion Hotel has looked after travellers in Stirling since 1786. There has been a process of continuous improvement of the hotel over the last few years and you'll find it very comfortable indeed.
An excellent city centre location with staff committed to giving first class service. The hotel is within easy walking distance to main bus and rail stations. An ideal location for business and leisure and within walking distance to all amenities and tourist attractions. A convenient place to stay in a central location.
The hotel has 67 up-to-date bedrooms including a range of Superior and Executive rooms. Private bathrooms, radio, colour TV and direct dial telephone come as standard.
Accommodating People
The standard of comfort at the Golden Lion will satisfy the most discerning guest. All rooms have been stylishly refurbished with en suite facilities and all have flat-screen tv with Sky.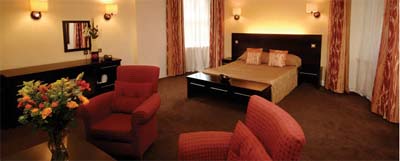 Spacious rooms blend traditional and contemporary looks. Several rooms aresuitable for disabled guests.
Free internet broadband is available in the Golden Lion#39;s public areas and a lift serves all five floors.
Robert Burns in Stirling
Robert Burns, Scotland#39;s national poet, stayed at the Golden Lion Hotel in 1787, and late one evening (or in the wee small hours of the morning) he etched the controversial poem Stirling Lines on a window pane in one of the public rooms. Was that room what is now the Library Bar? We do know that Burns returned some weeks later and shattered the offending pane with his riding crop (well, he was the pop idol of his day, mobbed in nearby Broad Street and at the Tollbooth.) The window glass is gone: the story remains forever.
Restaurants and Bars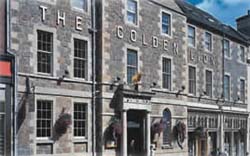 For well over two centuries The Golden Lion has welcomed guests, with delicious fare, fine wines and refreshing ales. Friendly service is guaranteed in the cosy Cronies Bar and the adjoining Cronies restaurant. You#39;ll find our sommelier has compiled an exceptional selection of fine wines from the New World and the Old, with something to please every taste. Our chefs make something special of dishes traditional and modern alike.
Cronies restaurant
Cronies Restaurant complements the adjacent bar with an elegant layout, service that is attentive and friendly, and a memorably high standard of cuisine.
Succulent local beef, lamb and Scottish seafood are among the signature dishes on an imaginative menu, which caters for all special dietary requirements. A varied menu for children is always available, and the Golden Lion provides a professionally chosen menu of wines from Worlds Old and New.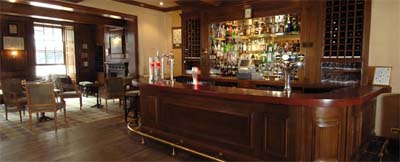 Cronies Bar
Cronies Bar is the characterful solution when you seek a cool, quiet pint, and the comfortable, wood-panelled setting is a favourite with touring guests and Stirlingshire locals alike.
Sink into the leather club armchairs and sofas, order up a dram or two of malt whisky and admire the memorabilia that takes you back to the Golden Lion#39;s 18th century origins as a coaching inn.
Throughout the day you can enjoy snacks, fresh coffee, tea and pastries, from our full bar service. A tasty bar meal menu is offered all day #39;til 10 pm and live entertainment is a regular attraction.
Location
The Golden Lion Hotel has exclusive, secure, car parking spaces available (subject to availability at time of arrival) free at the rear of the hotel. In a central location, the hotel is an easy 3 minute walk from Stirling#39;s main rail and bus stationsand a 7 minute walk from the castle. There is a taxi rank adjacent to the hotel.