Youth Hostels in Stirling
There are two SYHA hostels in Stirling. The main youth hostel is on St. John Street in the old town. Braveheart Backpackers is open during the busy Summer months. It is close to the town centre and particularly suitable for families. Stirling visitor information can be obtained from the main Stirling Hostel.
The main independent hostel is the Willy Wallace Hostel on Murray Place, right in the centre of Stirling and only a few hundred metres from Stirling Bus and Railway Station.
Click on the hostel links below to visit Stirling Hostel pages where you can check availability and make a reservation.
When you contact accommodation listed in this guide, please mention that you found them through instirling.com.
Thanks.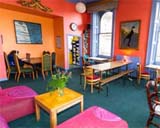 77 Murray Place,
Stirling
FK8 1AU
Independent backpacker hostel in Central Stirling.
Two minutes from bus and rail stations, pubs and shops.
Sociable atmosphere.
No curfew.
Hostel rooms
public 2 / bed 8
sleeps 54 - 56
Double Room, Twin Room and Hostel Family Room.
Contact: manager@willywallacehostel.com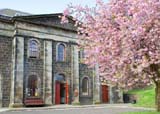 St John Street, Stirling. FK8 1EA
Hostel Tel: (01786) 473442
Hostel Rooms
public 3 / beds 32
The majority of rooms are 4-bedded
All rooms have en-suite bathrooms
sleeps 126
Contact: reservations@syha.org.uk
Stirling Braveheart Backpackers
Union Street, Stirling. FK8 1NZ
Hostel Tel: (01786) 473442
Single rooms in this hostel.
Shared kitchen and bathroom.
Fantastic views over Braveheart country and the Ochil hills.
Internet kiosk at the main Stirling Hostel, just up the road in the old town, towards the castle.
Contact: reservations@syha.org.uk