North Third and Sauchie Crags Walk
2.5km/1mile. This walking route, above the North Third reservoir in Stirling, should take about 1 hour to complete and is one of the finest cliff top paths in Central Scotland. The North Third reservoir and dam was constructed in 1931 and on a clear day you can see Ben Ledi, Ben Vorlich, Ben Chonzie, the Ochils, The Lomond Hills the Forth bridges, the Pentland Hills and Meikle Bin in the Campsies.
Footpaths are reasonably good but can be slippery after wet weather.
Children should be supervised at all times to ensure their safety, particularly near the cliff edge.
Route Map and Guide for Lewis Hill Walk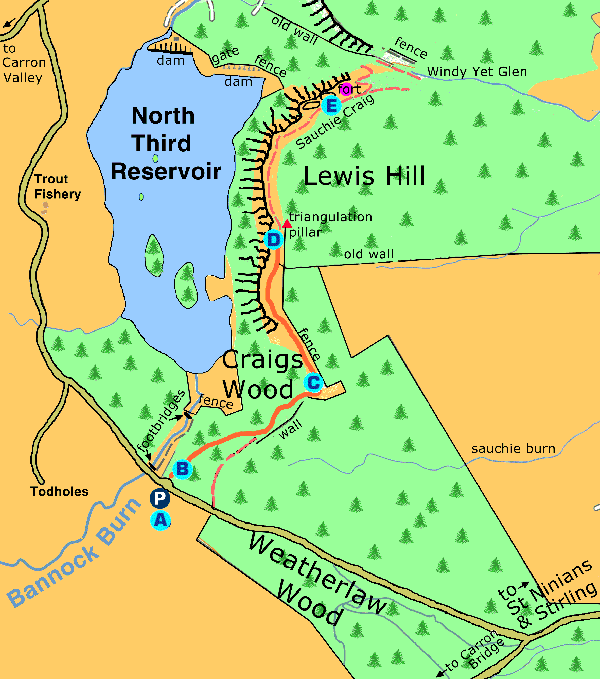 A Park 50m South of a small bridge over the Bannock Burn.
B Follow the path up a steep bank through beech, larch and oak trees. View through to the reservoir on the left.
C The track winds it's way up the back of the crags to the triangulation point.
D From the summit you can see Ben Ledi, Stuc a' Chroin, Ben Vorlich, Ben Chonzie, the Ochils, the Lomond Hills in Fife, the Forth Bridges, the Pentland Hills and Meikle Bin In the Campsies.
E The site of an Iron Age fort which was defended by the cliffs and two earth ramparts seperated by a ditch on the other side.
To get to the North Third from Bannockburn Heritage Centre
From the car park, turn right onto the Glasgow Road
Take the next right into Fairhill Road
Turn to the left into New Line Road and follow the signs for Carron Bridge
Cross the bridge over the M9, go uphill to a crossroads and proceed straight through
At the next junction turn right and travel another 2km
At the next junction, turn right and you will find the North Third reservoir along this road.