Stirling Town Wall and the Back Walk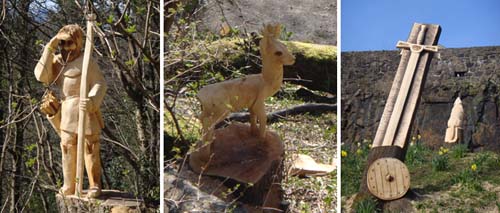 In 1547, King Henry VIII of England was trying to force a marriage between the infant Mary, Queen of Scots and his son Edward. At this time, the Royal Court at Stirling was continually under attack and the Town Wall was built as a defence. The wall had gates which allowed passage in and out of the town.
The main gate was the Barrasyett which stood at the junction of Dumbarton Road and Port Street. There were other gates at Upper Bridge Street, Friars Street and by the Thistle Centre. The wall defended the Southern perimeter of the town. On the Northern side, householders were required to maintain their garden walls to an adequate height.
The Back Walk was built between 1723 and 1791 and is regarded as one of Europe's finest urban walkways. Panoramic views can be enjoyed while walking or resting on one of of the numerous seats along the way. The circular walk can be accessed from many points in the Old Town and is accessible for wheelchairs and prams as far as the Guildhall.
When you are visiting the castle, it is worth taking the scenic Stirling Castle Back Walk circular route around the old town walls and the Castle.
Stirling Council, along with Loch Lomond and Trossachs Countryside Trust and Forestry Commission Scotland have carried out improvements to clear and remove unsafe trees and open up prominent viewpoints along the Back Walk. A team of three chainsaw carvers have worked their magic to produce carvings that are based on stories from the area's rich and colourful past, supplied by staff at the Stirling Smith Museum and Art Gallery. Two of the designs are based on ideas from pupils at the nearby Allan's Primary School.