St. Ninians Old Parish Church
St. Ninians Old Parish Church
1 mile South of town centre
Kirk Wynd
St Ninians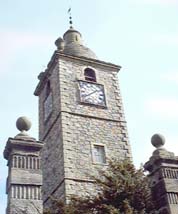 Erected in the 1730's, the Steeple in the graveyard at St. Ninians Old Parish Church is all that remains of the old church.
While Stirling Castle was under attack during the Jacobite rebellion, the original church was used as a powder magazine and was widely believed to have been blown up by the retreating Jacobite army in 1746.
An account kept in Stirling Council Archives, suggests that the Jacobites enlisted local help to remove the gunpowder. Some of the locals took the opportunity to help themselves "filling their pockets and hiding parcels of powder under most of the seats of the church".
A guard who saw what was happening, fired a warning shot, ignited the powder and blew up the church along with several people.
The present church was built in 1751 to replace the earlier church and was later altered in 1937.