<< Back to Stirling Sightseeing
---
<< Where to stay in Stirling - Stirling hotels, cottages, apartments, bed and breakfast
---
visit stirling
The Tolbooth and the Mercat Cross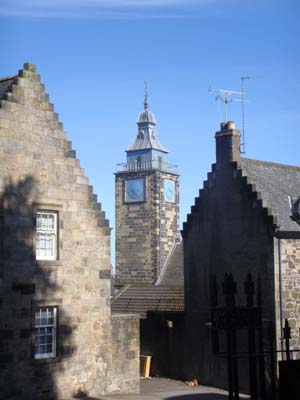 Broad Street, Stirling Old Town FK8 2ET
Telephone 01786 443240
Stirling became a Royal Burgh around 1124 and the Old Town started to develop below the castle. In the 15th and 16th Centuries, the Stuart monarchs held court in Stirling and rich merchants built their houses here. The Mercat Cross stands in Broad Street and was once the focus of the town's trading activity. The unicorn figure on top is known as the puggy.
Nearby is Norrie's House. This was the house of the Town Clerk, James Norrie and is a good example of a 17th Century merchant's house.
By 1550, the Tolbooth stood next to the Mercat Cross. It was the court house, council meeting place, armoury and prison. The town's money was kept there. It served as the administrative heart of the old town, The original Tollbooth was in such a bad state that it was demolished around 1700. The present Tollbooth was built around 1703-05 by Sir William Bruce, who also designed Holyrood Palace. A courthouse and jail were added in 1809. The tower features a rare surviving example of a dutch pavilion roof.
Re-opened in March 2002, the Tolbooth is the new base for Stirling Council's Heritage and Cultural Services and a new centre for music and the arts. Richard Murphy Architects have re-designed the building, combining restoration of a historic building with radical, new architectural statements. This 5.7million project has enclosed the internal courtyard to create a 200 seat auditorium and public foyer, meeting rooms, rehearsal space, a recording studio, bar and restaurant.
To see the current programme of music and arts events at the Tolbooth, visit our What's On Guide
---