Menstrie Castle
Castle Road, Menstrie
Off the A91 in the village of Menstrie, four miles East of Stirling
Telephone 01259 213131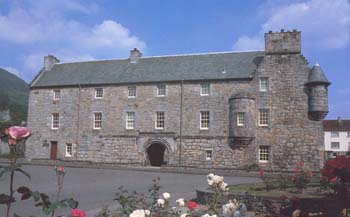 Menstrie Castle, a three-storey castellated house, was home to a branch of the Clan MacAllister who anglicised their name to Alexander.
Sir William Alexander 1557 to 1644, was to become 1st Earl of Stirling in 1633. In 1626, he had been appointed as Principal Secretary of State for Scotland and entrusted with the establishment of a Scottish colony in Nova Scotia in Canada.
He advised King James VI to found the Order of Baronets of Nova Scotia as a money making scheme. For the payment of 1,000 merks, new baronets were granted a 16,000 acre estate in the developing colony. The scheme failed and in 1631, Charles I ceded the lands to Louis XIII of France, and ordered the settlers to burn their buildings. After the failure of the scheme, William died a bankrupt in London in 1644. His embalmed body was brought North and interred in the family vault in the High Kirk of Stirling.
There are still about 100 Baronets of Nova Scotia in existence. Many of them are descended from ancestors who once nominally owned territory which they would never see.
From the middle of the 18th Century, Menstrie Castle fell into a steady decline. The building was so badly dilapidated that it was only saved from demolition after a campaign led by the actor and conservationist Moultrie R. Kelsall.
In 1951, the castle was listed as a building of national importance which cannot be altered or demolished without the consent of the Secretary of State for Scotland and it now provides housing accommodation, as well as a commemoration room to the Baronets of Nova Scotia.
Free
Open
Easter Weekend and May to September
Saturdays and Sundays only 14.00 to 17.00