<< Back to Stirling Sightseeing
---
<< Where to stay in Stirling - Stirling hotels, cottages, apartments, bed and breakfast
---
visit stirling
The King's Knot | Cup and Saucer
1/4 mile West of town centre.
Access from Dumbarton Road / Kings Park Road
On the land below Stirling Castle, you will see an octagonal stepped, grassy mound which is the King's Knot.
Around 1630, it was planted with box trees and ornamental hedges and formed part of a magnificent formal gardens. Barges were sailed along a canal which surrounded the garden.
The King's Knot is better known locally, as the Cup and Saucer. Its appearance has probably been altered by restoration in the 19th century.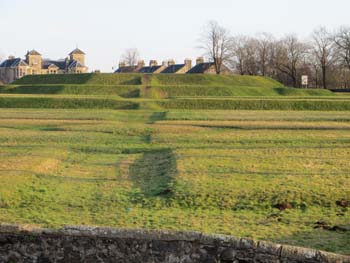 ---