Castle Campbell at Dollar Glen
Castle Campbell
Dollar
12 miles East of Stirling on A91
Telephone 01259 742408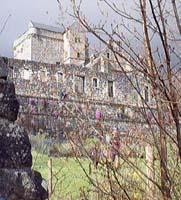 An atmospheric, 15th Century fortress at the head of Dollar Glen. The castle was originally called Castle Gloume and the burns which run nearby are named Care and Sorrow. The 60 foot high tower dates from the latter part of the 15th Century and the Southern enclosure and later additions were added in the 16th and 17th Centuries.
Dramatically perched on a high mound with steep ravines on either side, there are superb vistas over the village of Dollar and the Forth Valley.
From 1489, Castle Campbell became the lowland stronghold of the powerful, Campbell Earls of Argyll, allowing them to be close to the Royal Court at Stirling.
In 1556, the Earl invited John Knox and he is said to have dispensed communion from the pulpit. Other notable visits were made by Mary Queen of Scots, Robert Burns and Sir Walter Scott.
Make a full day of your visit and follow the dramatic, Dollar Glen walkways on your way to the castle.
Check current opening times and admission prices, check at Check Current Opening Times and Admission Prices