Cambuskenneth Abbey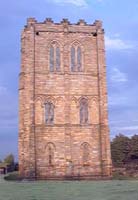 1 mile East of town centre.
Access from Riverside Drive and over the footbridge to the village of Cambuskenneth.
Vehicular access from Alloa Road A907.
Telephone 01786 450000
Within a loop of the winding River Forth. An Augustinian settlement founded by King David I in 1147. Benefitting from Royal Patronage of Stirling this became one of the richest abbeys in the country.
The Abbey was closely involved with the Battle of Bannockburn in 1314. Bruce's Parliament which met here in 1326 was the first to include representatives of Scotland's burghs.
After the Battle of Sauchieburn in 1488, King James III was murdered near Bannockburn and you can see his grave at Cambuskenneth. He is buried along with his wife, Queen Margaret of Denmark. Their tomb was erected and financed by Queen Victoria.
The Abbey was closed in 1559 and most of the stone was carried away to be re-used for building material. Originally dating from 1300, the bell tower has survived in a form after restoration work in 1859.
Open
April to September
Monday to Saturday 09.30 to 18.00
Sundays 14.00 to 18.00
Admission Free