1/2 mile North of town centre, off Drip Road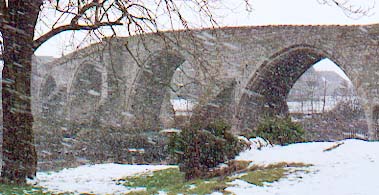 Stirling Old Bridge was built around 1500 and was the lowest bridging point over the River Forth for almost four centuries. Duties were levied on goods entering the Burgh and customs men sat in a covered booth in a recess in the middle of the bridge.
The bridge has played it's part in the history of Stirling. In 1571 a gallows was erected on the bridge to hang Archbishop Hamilton. During the Jacobite rebellion in 1745, the Southernmost arch was blown up by general Blackney to prevent the Highlanders from crossing.
Old Stirling Bridge lies downstream from the earlier, narrow wooden bridge that spanned the river Forth. This bridge was depicted on the burgh seal of Stirling in 1296, one year earlier than Wallace's battle. This was where the Battle of Stirling Bridge took place when the army of William Wallace defeated the English troops as they attempted to cross.
Remains of the bridge are located upstream from Stirling Old Bridge. The pier foundations of the old timber bridge were discovered in 1905 and when the river level dropped during a drought in 1955, the stonework could be clearly seen. The stone piers are still under water and are not visible at normal low tide level.
Just downstream is Stirling New Bridge which was opened in 1833. This bridge was designed by Robert Stevenson, one of Scotland's most notable engineers and the grandfather of author, Robert Louis Stevenson.
Read more about Sir William Wallace and the Battle of Stirling Bridge.