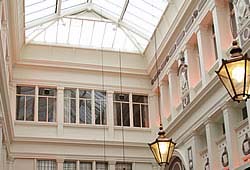 The Stirling Arcade - quite simply shopping as it should be.
Offering some of the best quality alternative shopping under one roof in Stirling, a visit to the Stirling Arcade is something not to be missed. It houses an eclectic mix of independent shops and specialist services where you'll find something for the whole family.
The Stirling Arcade has been a landmark of the city ever since it was built between 1881 and 1882. This magnificent building is one of only a few of its kind in Scotland.
Read a history of Stirling Arcade in Places to Visit around Stirling.
The Stirling Arcade,
King Street,
Stirling,
FK8 1AX
Telephone: 01786 450 719

Opening Times
7 days a week
Monday to Saturday: 8am 'til Late
Sunday: 10am 'til 4pm
Individual opening hours may apply
Here are the diverse range of stores currently which currently call the Stirling Arcade their home.
---
Andy Simpson Music
Musical Instruments
Unit 38-40, Stirling Arcade. Telephone: 01786 449 555
---
Bannjaxx Comics - Comic Shop
Unit 13, Stirling Arcade, Stirling, FK8 1AX. Telephone: 01786 463 699
---
Beauty at Ebu
Beauticians
Unit 12, Stirling Arcade. Telephone: 01786 451 963
---
Betti Loves It and Betti Loves Shoes
Fashion Boutique
Unit 34, Stirling Arcade. Telephone: 01786 451 256
---
Bluebells
Designer Baby Clothes
Unit 15, Stirling Arcade. Email: akc03@hotmail.com
---
Budda Bar and Kitchen
Bar and Restaurant
28 King Street, Stirling Arcade, Stirling, FK8 1AX. Telephone: 01786 445895
---
Cibo e Vino
Italian Restaurant
Unit 24-28, Stirling Arcade. Telephone: 01786 474 888
---
Connie's Closet
Fashion Boutique
Unit 19-21, Stirling Arcade, Stirling, FK8 1AX. Telephone: 01786 464 669
---
Divinity
Unusual and unique items
Unit 9 - 11 Stirling Arcade. Telephone: 01786 478097
---
Furnish
Unit 23 Stirling Arcade, Stirling, FK8 1AX. Telephone: 01786 450 196
---
Hashtag
Handcrafted and Contemporary Gift Shop
Unit 29, Stirling Arcade. Email: info@hashtag.bz
---
Homes for You
Estate Agency
Unit 6, Stirling Arcade. Telephone: 01786 475 750
---
Lazybeez
Ladies Toning Club
Unit 42, Stirling Arcade, FK8 1AX. Telephone: 01786 463 577
---
Pinky's
Nail Bar
Unit 3, Stirling Arcade, Stirling, FK8 1AX. Telephone: 01786 462980
---
Poppy Boutique
Fashion boutique
Unit 8-10, Stirling Arcade, Stirling, FK8 1AX. Telephone: 01786 359369
---
Posh Boutique
Fashion boutique
Unit 36, Stirling Arcade, Stirling, FK8 1AX. Telephone: 01786 849244
---
Pretam Beau
Hairdressers/Beauticians
Unit 17, Stirling Arcade. Telephone: 01786 474 149
---
Silver Gems
Jewellery
Unit 2, Stirling Arcade, FK8 1AX. Telephone: 01786 447 594
---
Stirling and District Women's Aid
Voluntary Women's Support Organisation
Unit 7, Stirling Arcade, Stirling, FK8 1AX. Telephone: 01786 469518 Advice Line: 01786 470897
---
Straitwurly
BMX and skateboard accessories
Unit 14, Stirling Arcade, Stirling, FK8 1AX. Telephone: 01786 446352
---
The Personal Touch
Specialist Lingerie
32 King Street, Stirling, FK8 1AY. Telephone: 01786 464 477
---
Thunkit
Motorcycle Accessories
Unit 8-10, Stirling Arcade, Stirling, FK8 1AX. Telephone: 01786 445 501
---