Lime Road
Tamfourhill
Falkirk FK1 4RS
Reconnecting the Forth and Clyde and Union Canals between Glasgow and Edinburgh and opened by British Waterways in December 1999, the Falkirk Wheel is the centrepiece to the Millennium Link canal project.
From the Visitor Centre, you can join one of The Falkirk Wheel boat trips.
Originally, the two canals were connected by a flight of 11 locks which dropped the canal 33.5m over a distance of 1.5km.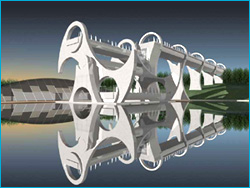 The Falkirk Wheel provides a solution to the problem of transferring boats from the Forth and Clyde to the Union Canal.
From New Port Downie, you will sail onto The Falkirk Wheel and enjoy the scenery, as The Falkirk Wheel commences its graceful ascent to join the Union Canal 35m above.
You sail along a section of the Union Canal before the return journey and descend to rejoin The Falkirk Wheel Experience at the Visitor Centre.
Ascent and Descent on The Falkirk Wheel takes 45 Minutes
You can pre book your departure, so call the The Booking Line to book and confirm your preferred departure time. You should arrive at least 30 minutes before your allocated trip time, to collect your tickets and board the vehicle of your choice.
Group visitors, FIT's, and coach parties should call to book their visit.
The best way to experience The Falkirk Wheel is by taking a trip on our breath taking boat journey. The 50 minute journey lifts the boat up to join the Union Canal 35m above and sails smoothly from The Falkirk Wheel onto the Union Canal.
Telephone 01324-619888
Booking Line 08700-500-208
Consult the Falkirk Wheel website for visitor centre opening times and Standard boat trip prices