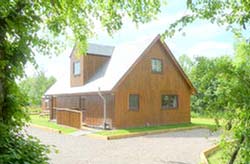 Manor Steps
Stirling
Scotland
FK9 5QJ
Welcome to La Fortuna Lodges
We're delighted to announce the availability of our new hot tub facility with it's own patio area.
Opened in Easter 2010, these spacious well-appointed lodges enjoy a fabulous countryside location, with open views of Stirling Castle, Wallace Monument and the Ochil hills yet only a short drive away from Stirling city centre and all the main tourist attractions. La Fortuna Lodges is located just off the A907, 4 miles north-east of Stirling town centre.
Accommodation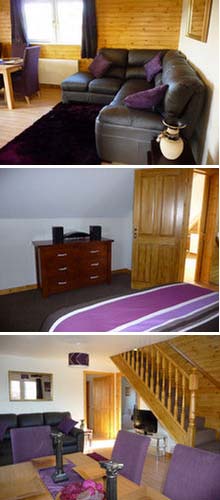 Downstairs we have a lounge dining room which seats up to six people; with satellite tv, dvd player including some DVDs for your entertainment. There is a separate kitchen with all the mod cons including dish washer, washing machine, microwave etc.
Also located downstairs there is a double room with king size bed and a family bathroom with bath tub and over head shower.
Upstairs there are a further two double bedrooms and a bathroom with shower cabinet. One bedroom having a king sized bed and the other with twin beds. There is also a reading, relaxing and dressing area in the landing with a view of the Ochil hills.
All of the lodges are furnished to a very high standard. Included with all the lodges is bed linen, towels, cots (if required), hairdryer and a welcome pack to get you started with tea, coffee etc.
Each lodge has disabled access to the ground floor including ramp from pathway.
Tariffs
Please email to enquire about current rates and short break enquiries.
We offer 3, and 4-night short breaks as well as excellent weekly rates.
We always try to cater for extra days and special requests.
Activities
The town of Stirling has many restaurants, a cinema, ice skating rink, swimming pool and a large shopping centre. All situated within a 3 mile radius.
The Lodges also enjoy easy access to motorways from Edinburgh, Glasgow and the North and a main bus route. With excellent road, rail, bus and airport links, it is very easy to see any or all of Scotland.
We can arrange airport transfers if required.
The University of Stirling is also a few minutes' drive away offering excellent sporting facilities including swimming and a 9-hole golf course. Visitors can also enjoy entertainment from the MacRobert auditorium which regularly hosts live performances and also includes a small cinema.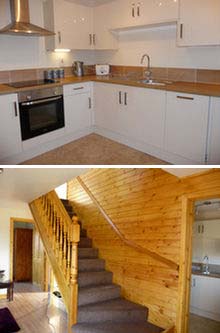 We are ideally situated for either a relaxing holiday in the countryside or an action-packed adventure through Scotland.
Terms and Conditions
The La Fortuna Lodges provides the visitor with a terrific setting in which to enjoy the perfect break.
Thus to ensure your holiday meets with your expectations, we have put together some information which we hope will be of value.
Reservations are from 4.00 p.m. on day of arrival until 10.00 a.m. on day of departure. A reservation only becomes confirmed when a deposit is received. Please try to arrive no later than 6.30pm on day of arrival. Please telephone to inform us if this is not possible so arrangements for uplift of keys can be made.
When making a reservation, an initial deposit of 25% of the final rental price is required. This is part of the full rental charge. The balance of which must be paid four weeks prior to arrival. We accept credit and debit card bookings i.e. Visa , Mastercard, Delta and Maestro.
We also accept a cheque made payable to "La Fortuna Lodges". If paying by BACS transfer, the client must ensure charges are paid by them. A 2.8% surcharge will added for credit card bookings.
Infants requiring cots (and not beds) shall not be charged.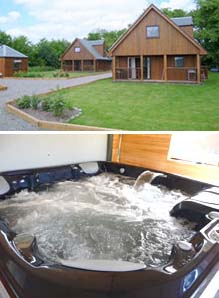 The hirer in any of the following paragraphs is deemed to be the person who made the reservation.
Our receipt of your deposit guarantees your reservation. In turn you are financially responsible for the entire reservation. Should you need to cancel, we will refund your deposit less a £50 handling fee only if notified within 60 days prior to arrival. If you are unable to give us 60 days notice, we will make every effort to book your space to another party. If we are successful, only then will you receive a refund minus £50 handling fee.
Notice of cancellation should be made immediately by telephone, then confirmed in writing to Mairi Massa.
Bookings by persons under 18 years of age cannot be accepted.
No fires are to be lit on any part of the grounds or surrounding land.
No caravans may be parked on the grounds.
The booking is made in good faith in the belief that the lodges will be placed at your disposal for the type and dates stated, if for any reason this is not possible through circumstances not under our control (e.g. fire theft or damage) we cannot guarantee to provide an alternative lodge. In such an event the deposit will be refunded in full and as such you will have no claim against the proprietor. The proprietor reserves the right to alter or amend the facilities or amenities available without prior notice.
The hirer shall allow the lender entry to the properties for all reasonable purposes.
No pets are allowed in ANY of the lodges.
We ask that the lodges are left in a clean and tidy condition and that should any items be accidentally broken or damaged that you undertake to replace or repay. Fair wear and tear excepted.
The number of people occupying the hired lodges must not exceed the numbers stated on booking, without prior arrangement. An extra payment is required for extra people staying.
The hire property shall be used solely for holiday purposes and the hirer shall not sub-let the properties or any equipment hired to the hirer. Smoking is not allowed within the lodges.
No liability is accepted by La Fortuna Lodges for loss or damage to hired or passengers property, baggage, motor car etc, however caused nor for any accident or mishap to persons whilst on the premises. The owner reserves the right to refuse admission of persons or pets, in the opinion of the owner is not suitable to take charge or causing a disturbance/nuisance which may upset the peace and tranquility of other holidaymakers. In the event of termination of a let a refund of any unexpired portion of rent will be made.