Young People
Check our What's On Guide for details of events, workshops, courses and classes for Young People
Check our Things To Do section for full details of sport and leisure facilities
---
Things To Do In and Around Stirling
Enjoy a great day out for the whole family at Briarlands Farm where you can explore the amazing Maize Maze, visit the Family Fun Area, a Farm Shop stocked with both the farm's own and local seasonal produce and enjoy a tea or coffee with a selection of delicious home baking from Mary's Kitchen.
---
Play Pots is a paint your own pottery studio, Soft Play and Cafe Ceramic Studio in Stirling Scotland. A great day out whatever the weather in a relaxed and friendly environment. An activity that the whole family can enjoy! Our friendly staff are always on hand to help make your visit fun and a day out to remember!
---
Stirling Parks and Playgrounds
Mr Stick, the Fun Detective says -"I've been looking around and Stirling has some great playparks.
When the sun is out, what more you could ask for ?
Here are some of the best."
Beechwood Park
Travel from town on St Ninians Road.
Go past Randolphfield Police HQ on right.
Along a little further, at Newhouse, you will see Beechwood Park on the right.
Tel: 01786 78000
Climbing Frames, Tyre Swings, Swings, Toddler Swings, Helter Skelter,Putting, Bikes for Hire, BMX Track, Play Area, Walks through mature woods.
A nice looking park with a good range of play equipment The playpark is fenced off and there are grids at entrances to keep out dogs. The play area has bark covered, safe playing surfaces.
The cycle park was laid out years ago as a miniature road system with bridges and traffic lights. Older children might not be impressed but it still provides good fun for the younger ones. Bring your own bike or there is a good range for hire, to suit all ages.
Toilets
Disabled facilities
---
Causewayhead Park
Travel from town on the Causewayhead Road.
At the roundabout, turn right onto Alloa Road.
The park is on the left past the Pelicon crossing. An attractive and well used park at the foot of the Wallace Monument and Abbey Craig.Lots of space for playing ball games etc. the playpark has a good range of play equipment including Flying Fox, Swings, Roundabout, Climbing Frames, See-Saw, Slides, Sand Pit.... and that old favourite, the concrete sheep.
The playpark is fenced off and there are grids at entrances to keep dogs out. Grass areas and bark covered, safe playing surfaces. Lots of space for playing ball games etc.
If you are feeling really energetic, there is an entrance way through the stone wall at the back of the park. This will take you up a steep flight of steps, onto a path through the trees which joins up with the walkway to the Wallace Monument.
Toilets
Picnic Benches
Disabled facilities
---
Kings Park
10 minutes walk from The Allanpark.
Go along Kings Park Road to the corner with Victoria Place.
Stirling's biggest and best used park has a good range of equipment. Very busy when the weather is good. The play area in Stirling's historic Kings Park, has been brought into the 21st Century with the installation of new state-of-the-art features including the new play area which will boast a number of fun features including a tower/bridge/slide embankment unit, climbing wall, bicycle roundabout, aerial runway and landscape improvements to existing features.
There's plenty of space to run around and places to explore around the golf course but look out for low flying golf balls. Follow the footpath up the hill past the skate park. There are good views from the park, over the fine Victorian houses of the King's Park Area and to the castle on the skyline.
Toilets
Mother and baby room
Disabled facilities
---
Laighills Park Dunblane.
From the High Street, go to the right around Dunblane Cathedral to Kirk Street. Carry on up Braeport and Raymoyle till you see Laighill Place which leads to the park. Multi-Unit Climber, Whale 'springies', Twisted Slide, Dutch Disc, Helter Skelter, Swings.
There is a small, sand play area for young children which is fenced to keep dogs out. This is in the shape of a ship and entry is by a net cargo bridge.
Toilets
Barbecue area
---
Ochil Hills Woodland Park
1 Mile East of Alva off A91 Hillfoots Road
Tel: 01259 452409
Formerly the grounds of the now demolished Alva House on the lower slopes of the Ochil Hills.
There are attractive way-marked woodland walks and a play area for younger children.
An 18th Century ice house and the walls of the kitchen garden still remain within the park. The Visitor Centre gives an insight into the formation of the Ochil Hills and the history of Alva House.
Visitor Centre within the nearby Farriers Hotel
Open daily. April to October
---
Ochlochy Park Dunblane
At the roundabout on the Perth Road, take the Glen Road which leads to Sherrifmuir. Turn to the right near the golf club house.
A pleasant place for a short walk with toddlers who will enjoy the streams, bridges and ponds.
---
Fountain Road Park Bridge Of Allan
From Henderson Street turn into Fountain Road and the park is on the left at the Nineveh Fountain.
Swings, Toddler Swings, Slides, Climbing Frames, Flying Fox, Sand Pit, Stand-up See-Saw
A well equipped park with grassy areas and bark covered, safe playing surfaces.
The park is walled with grids at entrances to keep dogs out.
Close to shops and services in Bridge of Allan.
At the end of Fountain Road you can cross over and take a pleasant, short stroll along the tree lined river bank on the Centenary Walk.
OR you can cross the metal footbridge and follow the path round onto Inverallan Road. This will take you out by the Bridge over the Allan. Cross the road and there is a lovely spot for a picnic or exploring the riverbank.
Picnic Benches
---
Riverside Park
Along from the railway station on Goosecroft Road, cross the bridge over the railway line at Seaforth Place.
Travel down Shore Road, along Abbey Road, then turn right at the entrance to Abbey Mill into Riverside Drive.
The park is along on the left at Waverley Crescent.
Climbing Frames, Sand Pit, Swings, Wobbly Snake, Dutch Disc
Playing fields and safe playing surfaces.
The park is fenced off with grids at entrances to keep dogs out.
Across from the park, turn left and you can walk alongside the River Forth on a tree lined walk to Stirling Old Bridge.
Or Turn left. Walk along to the footbridge and cross over to the village of Cambuskenneth. Walk up to the end of South Street and turn left into St. James Orchard where you can visit the bell tower, ruins and grounds of Cambuskenneth Abbey.
Picnic Benches
---
Time 2 socialise: Salsa and Merengue Dance Classes
Salsa is great fun, a fantastic way to keep fit, and a wonderful way to meet people
The classes appeal to people of all ages and backgrounds and once you know a few steps, there are many places to go to socialise and practise.
If you don't have a partner, don't worry. You can partner up at the class. Lots of people come on their own.
Salsa classes run on most days of the week in Stirling, Dunblane, Callander and Clackmannanshire.
For Information
Telephone: David on 07985 621340 or
Denise on 07803 043263
e-mail: stirlingsalsa@yahoo.co.uk
---
The MacRobert Arts Centre
Mr Stick, the Fun Detective says -
" macrobert programmes a wide selection of theatre, dance, music, comedy, children's theatre, and festivals working with a vast number of professional artists and companies to present a multi arts programme of the highest quality with particular emphasis on work with and for young people.
Check the In Stirling Whats On Guide for details of the current programme.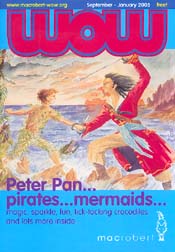 macrobert is located on the stunning campus of the University of Stirling and is easily accessible to all areas of Scotland. We offer unique facilities, which have been designed by young people themselves and include a dedicated theatre for children - playhouse; a state of the art cinema - filmhouse; children's art gallery - arthouse; crèche - treehouse; a workshop rehearsal space - workhouse as well as a stylish café bar and medium scale theatre space - mainhouse.
The macrobert café bar offers great food, amazing desserts and most of all a genuinely warm welcome, with an ambience to match. There's plenty to mull over, with a wide range of hot and cold drinks, including a large selection of wines from around the world, available by the glass or by the bottle. The cafe bar caters for the needs of children with a selection of healthy and fun food. Board games and colouring sheets are available and mothers who are breastfeeding are welcome to do so anywhere in the building.
Birthday Parties can be arranged - See a show or film or be creative in treehouse with a dance, drama, music or visual arts workshop. Party packages can be arranged to suit your child and their friends.
The treehouse crèche provides supervised arts activities for children aged 3 months to 8 years, every morning Monday-Friday, 9.15am-1.15pm. This gives parents some valuable time to themselves whether it be to watch a cinema screening, have some lunch, take an older sibling to see a macrobert performance or to visit the University sports centre or nip into town for some retail therapy!
Wallace's den is an unsupervised area for children aged 8-14 years which offers playstation 2, controlled access to the internet, books and games.
The macrobert programme is geared to meet the needs of young people
macrobert is fully accessible for wheelchairs and prams.
There is a pram parking bay as you enter the building beside the tickets and information desk.
If you or your child have any special requirements please let them know in advance.
Baby changing facilities are available in both the men's and women's toilets in the main foyer area and boys and girls toilets adjacent to the playhouse.
In addition, we offer a baby care room which includes a wheelchair accessible toilet, changing area plus a private area for feeding.

Call our friendly tickets and information staff on 01786 466666 between 10am - 8.30pm, 7days for event information and ticket bookings.
Check the In Stirling Whats On Guide for details of the current programme.
---
Youth Information
Stirling Youth Partnership
A network of all organisations within the Stirling area that work with or for young people. There are partners from the voluntary and statutory sectors and commercial enterprises.
Visit the Stirling Youth Partnership website at www.stirlingyouthpartnership.org.uk/ to find information for young people and their services in the Stirling and District Area.
Stirling Young Scot
The Youth Involvement Team,
Youth Services,
Municipal Buildings,
8-10 Corn Exchange Road,
Stirling, FK8 2HU
Tel: 01786 432258
E-mail: stirlingyoungscot@stirling.gov.uk
This is a chance for you to be involved in something which is BY young people FOR young people in Stirling.
Supporting young people to take advantage of as many opportunities as possible, you get access to publications and a fab new portal, which are crammed full of information to help you get out and enjoy yourselves.
www.youngscot.org is an interactive and dynamic source of up-to-the-minute youth-related news and information, that is crammed full of entertainment features, competitions, special offers, discounts, and the chance to get a free email address.
There are loads of benefits in being a Young Scot member such as the Young Scot Card which you can use in over 1,700 outlets in Scotland, ranging from cinemas and theatres, to shopping, sports and travel. It's also valid at over 200,000 places in 38 European countries
To find out more visit the Stirling Young Scot website at:
www.youngscot.org/local/stirling/Stirling Young Scot website