Stirling News and Events
Current Stirling news and up to the minute happenings in the city of Stirling.
2018
The Schubert Ensemble Farewell Concert
Widely recognised as one of the world's leading exponents of music for piano and strings, the Schubert Ensemble has performed in over 40 different countries, has over 80 commissions to its name, has recorded over 30 critically acclaimed CDs and is familiar to British audiences through regular broadcasts on BBC Radio 3.
The Ensemble has decided to bring its 35-year career to a close at the end of June 2018. It will see out its final season in celebratory style, with around fifty concerts planned in the UK and abroad. The ensemble will perform at The Tolbooth in Stirling on Sat 10th March.
Touring has taken them to major venues in cities such as Tokyo, New York, Los Angeles and Amsterdam, but also to many extraordinary and unlikely venues in countries such as Nicaragua, Guatemala, Malaysia, Malta and Lebanon, to name but a few. In 1998 their contribution to music in the UK was recognised with Royal Philharmonic Society's best chamber group award, for which they were shortlisted again in 2010.
After 35 years at the forefront of British chamber music, the Schubert Ensemble have decided that this will be their last season. The Ensemble leaves behind a significant legacy, and can look back on many memorable highlights.
This farewell season, has seen the Ensemble return to many favourite venues, giving opportunities for its five members, unchanged for 23 years, to say thank you and goodbye to the many good friends they have made over the lifetime of the Ensemble.
The Schubert Ensemble are blessed with the most natural, unforced, singing tone
The Independent on Sunday
Go to the Tolbooth section of the website to find out more and to buy tickets
---
The Handsome Family at the Tolbooth
13 March
£17.50
8.00 pm
For almost as long as they've been married (26 years) Brett and Rennie have written songs together (Brett, music; Rennie, words). Their finished work is never fully one or the other's, but lives in unseen space between them.
The Sparks' music is steeped in the western gothic of New Mexico life. The unseen is powerful here. Nothing rusts, but entire oceans have disappeared. Ski masks mean robberies, but in the slow dive of the sun, enormous bugs awaken in thorny yards and unseen sirens and coyotes cry out to the purple sky. Just about anywhere you stand there's been some blood drawn.
Brett (guitar/vocals) and Rennie (banjo/bass/vocals) are joined by drummer Jason Toth (worldwide) and multi-instrumentalist Alex MacMahon (USA). Their shows are full of humour and chit-chat. The Sparks' aren't afraid to reveal their ordinary humanness.
Support from Drunken Prayer.
Unseen is The Handsome Family's masterpiece ☆ ☆ ☆ ☆ MOJO
love, harmony and poetry bind in a brilliant way to obscure beats ☆ ☆ ☆ ☆ ROLLING STONE FRANCE
Brilliant ☆ ☆ ☆ ☆ THE INDEPENDENT
Go to the Tolbooth section of the website to find out more and to buy tickets
---
Reprieve for the Stirling Smith
On February 2nd, Stirling Council confirmed that the budget option relating to funding cuts for the Stirling Smith had been removed from their budget proposals for this year. The Stirling Smith Museum faced significant reductions in funding under the Stirling Council proposal, facing the loss of its annual £242,000 funding by 2022/23.
The online petition to Save the Stirling Smith has collected more than 10,000 signatures.
Whilst this is a welcome development, the Friends of the Smith remain vigilant.
---
OLIVER
Stirling and Bridge of Allan Operatic Society
Stirling and Bridge of Allan Operatic Society are back at Macrobert Arts Centre with a production of Lionel Bar's classic musical. With a never-ending list of toe-tapping, hit songs and the well-known tale of an orphan boy who finds his true home despite the perils of the Victorian world he lives in, this is a real must-see for any musicals fans. You can bet we'll give it some Oom-pah-pah.
Tuesday 27 to Saturday 31 March 2018
150mins
£17.50 | £13.50 Concessions
---
Petitition Stirling Council and Help Save the Stirling Smith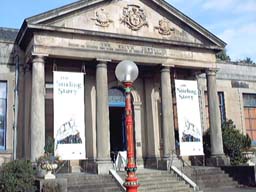 Stirling Council's priority based budgeting process has identified cutting funding of the Stirling Smith by 90% as a necessary saving. With a cut of £242,00 the Smith will be closed by 2020.
The Stirling Smith is 144 years young, has a collection of local, national and international importance and an outreach and education programme which connects with all of the Stirling communities and schools. The loss of the Stirling Smith would be a cultural disaster for Stirling.
We call on Stirling Council to save, enhance and protect the Stirling Smith and its work.
Go to change.org and sign the petition to save the Smith
---
Jimmy Osmond and His Band at the The Albert Halls
Moon River and Me - A Tribute to Andy Williams
15 February - 7.30pm
Seated £75, £32, £30, £27.50, £27.50
Jimmy Osmond began his performing career at the tender age of three with Andy Williams on his television series. This year marks Jimmy's fiftieth anniversary in show business.
Jimmy will sing the songs that made Andy Williams so beloved by millions including Music To Watch Girls By, Happy Heart, Can't Take My Eyes Off You, Almost There, May Each Day, Days Of Wine And Roses, and, of course, the song that was to become his theme tune, Moon River.
The youngest member of the world-famous Osmond family is joined by The Moon River Band with special guest stars Charlie Green and Emily Penny, and, naturally, a show with an Osmond would not be complete without some of the chart-topping hits that made Jimmy and his brothers famous.
Come and relive the dream with Jimmy Osmond singing the songs of Andy Williams.
Go to Culture Stirling The Albert Halls to find out more and to buy tickets