Runrig & Van Morrison at Stirling Castle in August
Tickets are still available for Runrig's 30th Anniversary Concert on the esplanade of Stirling Castle on Saturday 23rd August. It will be a night of celebration with many special guests. Phil Cunningham and Ally Bain are already signed up as support - More to be announced later.
Tickets are £28.50, with a special half price concession, subject to availability, for children under the age of 12.
Although the 30th anniversary celebrations will be centered around this show at Stirling Castle, this month is the actual date of the first Runrig show in the upper rooms of the Kelvin Hall in Glasgow, in 1973. So by the time the lads take the stage in Stirling they will be into their fourth decade!
The following day on Sunday 24 August, the legendary
Van Morrison will appear live at Stirling Castle.

Visit our Where To Stay Directory to find accommodation for your weekend in Stirling. Book Stirling hotels through expedia.
---
july 2003
Scribblers Picnic Success
Football legend Tommy Gemmell blew the whistle to signal the start of the charity football match and the second annual Scribblers Picnic. The Royal Burgh of Stirling Pipe Band, Highland Dancers and Line Dancers put on displays while people milled around the 40 charity pitches and a car boot sale.
A variety of groups and musicians appeared, performing a variety of folk, rock, pop and punk. There were appearances from school groups Organized Khaos and Scruffy Kid, local bands Crossroads and The Jack Daniels Experience. The highlight of the day for many was the appearance of ex-Cream, bass guitar legend, Jack Bruce. His son Malcolm was on guitar and on drums another legend, Ted McKenna from The Sensational Alex Harvey Band.
Although there were heavy showers the crowds flocked in and everybody had a great day. It is expected that around £14,000 will have been raised and will be shared between five cancer charities. Plans are already being made for the event to be bigger and better next year and The Scribblers Picnic looks set to become an annual event on the Stirling calendar.
---
june 2003
The Reading Maze
For some great fun over the school holidays, The Reading Maze is open from 16 June till 30 August. Get down to your local library to join the Summer Reading Club and as you read and enjoy books over the Summer, collect maze sticker sheets to put in your Maze Collector folder. Don't worry if you haven't got a library card - you can join at the library and it's free.
Collect all 6 sheets of stickers and you will receive a certificate and medal. Each sheet of stickers also gets you a FREE visit to The Rainbow Slides, Stirling, McLaren Leisure Centre, Callander or Balfron Campus leisure Centre for a free swim or
King's Park, Stirling for a free session at one of the seasonal activities, National Swimming Academy and National Tennis Centre for a free swim or game of tennis.
---
Britain's Oldest Woman Living in Stirling
Lucy D'Abreu has just celebrated her 111th birthday in Stiring and is now the oldest woman in Britain. Lucy Victoria D'Souza was born in Dharwar, India in 1892 and given the middle name Victoria after Queen Victoria. She lived in Waterford, Ireland for 60 years with her husband Dr. Abundius Joseph D'Abreu who died in 1971. She moved to Scotland in 1985 at the age of 93 to be near her family. She has five daughters, 13 grandchildren, scores of 'great' and 'great great' grandchildren scattered around the world.
---
Celebration of Stirling Arcitecture
The life and work of Stirling architect John Allan, who created some well loved and important buildings around Stirling, is being celebrated in the first of a series of leaflets to be produced by Stirling Council planning service. The leaflet includes a map which shows the location of buildings designed by Allan including the Wolf's Craig building, 29 - 31 Friars Street which was Hay's Music shop, 42 Albert Place, Abbey Craig Park House near the Wallace Monument, Batterflats and the pedestal and cage for the beheading stone on the Gowan Hill. Allan was born in Fife in 1846 and died in Stirling in his house at Cliffbank, Albert Place, Stirling.

The Wolf's Craig was the first building in Scotland to be built on a steel frame, had its own generator and was the first major building to be lit by electric power. People travelled by train from Glasgow and Edinburgh to Port Street in Stirling, to see the 'illuminations'.
The leaflets are available from libraries, local offices and tourist information centres.
---
NAE SMA' BEER Art Exhibition by Brewer's Group
Officially opening at 12noon on June 7.
This exhibition commemorates the closing of Maclays Thistle Brewery which is soon to be demolished and also the long history of brewing in Alloa. The work of local artists will be on display along with Bill Robertson's photographs of the deserted brewery.
At one time there were fifteen breweries in Alloa. The Thistle Brewery was built by James Maclay in 1871 and the beer which was brewed won awards in Vienna, Newcastle and Paris.
For further information visit www.brewers-group.co.uk
Sunday June 7 to 29
open Thursdays, Saturdays and Sundays from 12pm until 4pm at Maclays Thistle Brewery, East Vennel, Alloa.
---
may 2003
Runrig & Van Morrison at Stirling Castle in August
We can announce that Runrig's 30th Anniversary Concert will take place on the esplanade of Stirling Castle on Saturday 23rd August. It will be a night of celebration with many special guests. Phil Cunningham and Ally Bain are already signed up as support - More to be announced later.
Tickets will be £28.50, with a special half price concession, subject to availability, for children under the age of 12.
Although the 30th anniversary celebrations will be centered around this show at Stirling Castle, this month is the actual date of the first Runrig show in the upper rooms of the Kelvin Hall in Glasgow, in 1973. So by the time the lads take the stage in Stirling they will be into their fourth decade!
A day later on Sunday 24 August, the legendary
Van Morrison will appear live at Stirling Castle.
---
april 2003
Big In Falkirk 2003
Big In Falkirk 2003, Scotland's National Street Arts Festival is back for an unforgettable weekend of world-class Entertainment. This year the event will take place on Saturday 3rd May and Sunday 4th May in Callendar Park and at various locations throughout the Falkirk area.
As with previous years, there is an exciting full programme of live music, international street theatre, visual spectacle, a community parade, craft fair, busking competitions, children's activities and something for all the family.
See photographs from last year's spectacular performance of
Sticky by Improbable Theatre...included in the Observer's 10 Greatest Theatre Moments of 2002
---
Free Weekend Tours in Stirling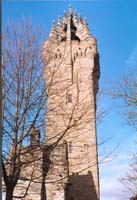 The City of Stirling is celebrating it's first birthday. On Saturday April 5 & Sunday April 6, you will be able to take a free tour on the open-top, city sightseeing bus and get free entry to top historic attractions.
The Old town Jail, Stirling Castle, Argyll's Lodging and the Wallace Monument will be opening their doors. The weekend has been organised by Stirling Council, Historic Scotland, Stirling District Tourism Citysightseeing Bus Tours and the Tourist Board.
Free car parking will be available at Viewforth.
---
Tolbooth Sound Orchestra Performance
On Sunday 30th March, the Tolbooth Sound Orchestra performed an excerpt of their work in progress.
The orchestra includes a variety of local musicians of all ages and abilities who are already committed to this project. This unique experiment may deliver a new musical composition but just as important is the process itself and allowing the music to grow from the participants. Some of it was loose, some of it was noisy but something special was happening.
Brian Irvine (New Music Fellow at the Tolbooth) has inspired and started to draw something from these people. You could see their enthusiasm and that they were working together.
Stirling Tolbooth is leading the way with this innovative community project. Keep your eye on the orchestra in coming months.
13 April is the last date for new players to enrol for this round of rehearsals as the orchestra concentrates on preparation for their gig at the le Weekend festival in May.

---
march 2003
Free Swimming in Stirling
From Saturday 5 April to Saturday 12 April, you can take part in the Easter Swim School at the National Swimming Academy, University of Stirling.
Every day, there will be a variety of free sessions to suit all ages and abilities. You can go to as many or as few sessions as you like.
The sessions are for:
Children over 5 - beginners, improvers and stroke development
Non-swimming adults
Stroke technique for adults
Club Swimmers
Children and adults with disabilities
Telephone 01786 466520 NOW to take part

---
Who set fire to Ayr Race Stand ?
International Women's Day Saturday 8 March 11.00am
Who set fire to Ayr Race Stand in April 1913, causing over £2000 worth of damage? No arrests were ever made and until now, the family of the woman concerned have kept her deed in the cause of women's rights a close secret.
The woman was Kate Taylor, a cinema cashier from the Gorbals and her name is revealed for the first time in an illustrated talk on the Scottish Women's Suffrage Movement by Elspeth King. Reflect on, and celebrate the achievement of the women, named and anonymous, who took up window breaking, arson, acid throwing and bombing to win Votes for Women.
The talk accompanies the Stirling Girls Exhibition, which looks at aspects of women's history and art in Stirlingshire, and runs until 25 May 2003.

Admission to the talk is £3.00 including refreshments.
---
february 2003
Fun in the Snow
Almost everyone had given up on dusting down their sledges this Winter but February began with more snow than Stirling has seen for a while.
There was some chaos on the roads, a few school closures but there were a lot of people having a good time.
---
VALENTINES DAY AT THE SMITH
For Valentine's Day, visitors and Friends of the Smith surrounded the Smith with love, by bringing a copy of a love poem (or a poem they love) and tying it to the trees around the building with red ribbons.
The use of the trees in this way is taken from the 'Clootie Well' and 'Raggy Tree' phenomenon of the past, when people tied pieces of their garments (or those from a sick relative) on trees beside a healing well, either for good luck, or to effect a cure.
---
Forth Valley Hospital
Stirling, with one of the fastest growing populations in Scotland may have lost it's chance to be the location for the new, Forth Valley Hospital after the local Health board decided it will be sited in Larbert. Potential sites at Corbiewood and Pirnhall had been suggested by Stirling Council as a site for the new 'super hospital' which is to replace Stirling and Falkirk Royal infirmaries.
Forth Valley Board members decided that disused mine workings and land ownership issues make the site unsuitable for development.
Stirling MSP Sylvia Jackson claims that Stirling has been given a raw deal and that there should be further investigation of the Stirling site.
List MSPs, Brian Monteith and Bruce Crawford support the Corbiewood and Pirnhall site and Mr. Monteith has raised the matter at the Scottish Parliament.
---
The Scribblers Picnic
At last year's Scribblers Picnich there were reggae, ceilidh, pipe bands, school and wedding bands and even the music of Jim MacLeod. This event which was held in memory of Stirling writer, teacher and musician, Graham Whitelaw, who died from cancer in 2001, will be held again this year. There will be side shows, a variety of demonstrations, Highland dancing, a charity football match and much more at this event which takes place at Bridgehaugh on Sunday July 20.
Money will be raised for CHAS, Marie Curie Cancer Care, MacMillan Cancer Relief, Maggie's Centres and Strathcarron Hospice. All charitable organisations are invited to take part and the organisers are hoping to create something along the lines of the Central Region Fete which used to be held annually at Viewforth - charities will be allowed to set up stalls and keep all the money that they make on the day.
---
january 2003
New Painting on show at the Smith

A Victorian painting showing Craigmill House in Stirling is the latest purchase for the fine art collection at the Smith Art Gallery and Museum.
The watercolour is by the well known artist Joseph Denovan Adam (1841-1896), who lived at Craigmill House between 1887 and 1895, where he ran a Country Atelier - a school of animal painting. The school attracted numerous art students at that time, including Edith Holden, who later became famous for her Country Diary of an Edwardian Lady.
Read More >>>
---
Stirling Hero Billy Bremner Remembered

Billy Bremner is to be given pride of place in the new Scottish Football Museum at Hampden Park. He won 54 caps for Scotland, led Leeds United to 2 League titles, the League and FA cups, two victories in the Inter-City Fairs cup and was voted Footballer of the Year in 1970.
Born in the Raploch in 1942, his 16 year career at Leeds saw them rise from the second division to the European Cup final. This legendary player died just before his 55th Birthday.
---
Lanrick Laird in Court

In court this week is Alistair Dickson, who is accused of demolishing Lanrick Castle near Doune. He claims that soaked stonework, rotten lintels, falling masonry and collapse had made the building dangerous and that children had been playing in and around the structure.
Dickson ignored a warning that he needed consent to knock down the B-listed house. This former home of the Clan Gregor had belonged to Dickson's family for three generations.
After the castle was flattened, a structural engineer from the council was surprised at the quantity of sound timber in the rubble. This could indicate that the building may not have been as seriously damaged as was thought. If found guilty, Dickson could face a £20,000 fine and 6 months in prison.
---
Old Town Cemetery Restoration

Stirling's historic Old Town cemetery, is being restored and many of the oldest headstones repaired. Work is being carried out under Stirling Council's memorial Inspection and Repair programme which has already carried out 7,000 inspections and 600 repairs around the Stirling area.
A community consultation event where local people will be asked for their opinions and ideas, will take place at the Boys Club, St. John Street on Saturday, 18 January from 11am to 3.30pm.
There will be an accompanied tour and cameras will be provided so that people can photograph points of interest in the cemetery. A plan will later be produced as part of an application for Heritage Lottery Funding.
---
Hogmanay Bash at Stirling Castle

The city of Stirling saw in the New Year with a spectacular Hogmanay celebration at Stirling Castle. The host for the evening was comedian and Radio Scotland DJ, FRED MACAULAY, music was provided by LAST TRAM TAE AUCHENSHUGGLE and CAPERCAILLIE.
On a freezing cold night, the cloudless sky was the backdrop for the most spectacular fireworks displays yet seen on the castle esplanade.
---
© in Stirling. All rights reserved.