Shopping in Stirling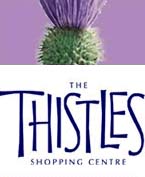 The Thistles Shopping center is situated in the heart of Stirling, Scotlandís youngest city. The Thistles tempts you with unrivalled selection of over 90 stylish shops, a mix of big brands and a variety of speciality shops which makes shopping an ultimate experience. Stirling is conveniently located and itís easy to get to by train, bus or car. Stirling Thistles offers parking for over 1300 cars.
Information Desk
Visit the Information Desk in Kings Square where the dedicated team of Customer Service Advisors will be happy to assist you. You can buy The Thistles gift card here too.
The desk is open from 9am-5pm Mondays, Tuesdays, Wednesdays and Fridays. From 9am-5pm on Thursdays, 9am - 6pm on Saturdays and from 11am - 5pm on Sundays. You can also send the Information Desk an email.
Wheelchairs are available at any time from the Information Desk free of charge.
---
Stores in Stirling Thistle Centre
3 Store
Telecommunications / 3G are a revolutionising mobile networking company offering the latest technology in communication. Including WAP, video messaging, video calling, and even Sky TV on your mobile phone. They have all the up to date handsets and accessories on offer so you will never feel behind the times.
01786 469448
---
Ann Summers
Ann Summers, the UK's leading Lingerie retailer. You will find all of the latest Ann Summers and Knicker Box lingerie collections, along with sensual massage lotions, edible body drizzlers, sexy dressing up outfits and of course the world famous Rampant Rabbit and its new cousin The Thruster
08700 534 106
---
Beaverbrooks
Beaverbrooks offers an exclusive range of jewellery and prestige watch brands.
Merchandise Armani jewellery and the Crisscut diamond exclusive to Beaverbrook's. Watches by Armani, DKNY, Ebel, Gucci, Omega, Raymond Weil, Rotary, Rotary Rocks and Seiko.
01786 446558
---
Bhs
Children's Wear / Department Store / Ladies Fashion / Mens Fashion /
Fantastic clothes for mum, dad and the children and inspirational home and lighting products. Seasonal to wedding wear Bhs has got it all.
01786 449560
---
Bodycare
Health Beauty & Wellbeing
Full range of fragrances including Burberry, Clinique, Estee Lauder and Hugo Boss at affordable prices. Extensive range of cosmetics and toiletries for that perfect body.
---
Boots
Popular with most customers is the range of cosmetics and fragrances that greet you as you enter the store. No.7, Maybelline, Urban Decay to name but a few, all have their own counters. Stacked up against the back wall is a fantastic range of fragrances. Chanel, Ralph Lauren, DKNY, Christian Dior, Armani are just a few of the scents available. Incorporating glamorous make-up and perfume counters, with film processing and prescription counters, make Boots a worthwhile shopping venture.
01786 462271
---
Burton
Footwear & Accessories / Mens Fashion /
Burton is destination for Mens. Sells Jeans, T-Shirts, Leisurewear, Knitwear, Outerwear, Casual shirts, Suits, Formal, Trousers and shorts, Socks and underwear, Shoes, Gift and gadgets, Accessories etc.
01786 472695
---
Card Factory
Card Factory stock cards for all occasions and also have a full range of gift wrapping paper, tags and gifts all at a value price.
01786 448534
---
The Carphone Warehouse
Carphone warehouse are one of the leading marketing suppliers of mobile phones and accessories in the UK.
They have all the latest handsets with a tariff whether it is contract or pay as you go across a wide range of mobile networks so you won't lose contact with the world of communication.
01786 449083
---
Celtic Store
Exclusive range of Celtic fashion and accessories for Men, Women and Children's are available. Store not to be missed by Celtic fans.
017864 50615
---
CeX
Speciality
CeX buy, sell and exchange a range of technology and entertainment products including mobile phones, video games, DVDs, HD films, computers, digital electronics, vision and music CDs.
---
Chisholm Hunter
Jewellers
Chisholm Hunter are a leading stockist of contemporary Diamond jewellery and top watch brands such as Rado, Raymond Weil, Gucci, Tissot and Armani. We work closely with top brand names to bring you the newest and the best jewellery from around the globe. We stock a wide choice from the breathtaking range of Pandora chains, spacers, links, beads and charms to suit every personality. As well as stocking inspiring silver jewellery and charms from Thomas Sabo at Chisholm Hunter, we also have a fantastic range of Trollbeads unique glass and silver beads and jewellery.
01786 471999
---
Claire's Accessories
For funky accessories of every kind - from earrings, anklets, toe rings and costume jewellery to useful accessories such as hair brushes and make up bags.
01786 479152
---
Clarks
Footwear & Accessories
As the UK's largest shoe retailer, Clarks have been providing footwear for all the family since 1825.
Offering smart and casual styles for men, women, girls and boys, Clarks is renowned for its quality, craftsmanship and style.
Now you can order online for in-store collection or free home delivery - visit www.clarks.co.uk to browse the entire range.
01786 462334
---
Clinton Cards
Keeping up with birthdays, anniversaries, Christmas and every other conceivable occasion is not easy but Clintons lends a helping hand with cards, gift wrapping and accessories for every event.
Soft toys and seasonal decorations make Clintons a must when you're celebrating that extra special occassion.
01786 471681
---
Costa Coffee
Variety & Food
Costa coffee was first poured on our shores in 1971 at 9 Newport Street, London, by Sergio and Bruno Costa. Today, just a few metres away from where they first set up, the Costa Roastery produces the same unique Mocha Italia blend that the Costa brothers worked so hard to create.
The perfect combination.
When you walk into a Costa store you'll notice it's different to other coffee shops. First of all, there's the warm and welcoming atmosphere. Then the great range of authentic coffee drinks. Next the Ferrari of coffee machines. And finally, the most passionate and well trained baristas around. It's this unique combination that makes us stand out from the others, and we're incredibly proud of it.
The most important ingredient in a cup of coffee.
Hand-making a cup of coffee is an art. It takes time and skill to perfect. That's why every single barista, in every single Costa store is professionally trained in the art of coffee by our experts. It's a little thing, but it makes a big difference, because it means you'll get a perfect cup of Costa coffee every time.
01786 451140
---
Debenhams
Debenhams is a leading department stores group with a strong presence in key product categories including womenswear, menswear, homewares, health and beauty, accessories, lingerie and childrenswear. Our exclusive own brands, including Designers at Debenhams, and third-party brands help differentiate Debenhams from its competitors.
08445 616161
---
Debra
Staff at DEBRA Charity Shop are appealing for donations of furniture and clothing to sell to raise funds for DEBRA the national charity that supports children, adults and families affected by Epidermolysis Bullosa (EB) - a rare genetic condition which causes the skin to blister and shear at the slightest friction, or even spontaneously.
The shop, situated at Unit 36, in The Thistle Centre, is now offering a free collection service to collect your unwanted items of furniture, including small electrical items. Business Manager Maureen Nickson said - We are appealing to the Thistle Centre customers as well as all those who work in the shopping centre, to have a sort out and donate their unwanted items from Prada to Primark all welcome at their local DEBRA shop'. Maureen is also urging donors to gift aid their goods if they are tax payers. To use the free collection service please ring 01786 440040
There are up to 10,000 sufferers living with this devastating condition in the UK. DEBRA relies totally on the generosity of the public to carry out its work, improving lives and giving hope through specialist nursing care, family support and vital research to find a cure.
DEBRA is the only national charity with specialist nurses and social care staff who work directly with families affected by EB. The charity also commissions world-leading research into the condition with the aim of finding effective treatments and, ultimately, a cure for EB.
For more information visit www.debra.org.uk
01786 440040
---
Dorothy Perkins/Burton
Dorothy Perkins Stirling delivers feminine, quality fashion and all the key fashion must haves of the season at affordable prices.

We provide fashion for all, designing our clothers in sizes 8-22, with our specialist ranges of Tall, Petite, Maternity available at the Stirling store.

Our customers can always find something for every occasion and we offer gorgeous shoes and accessories to complete the outfit head to toe.

Our collections are updated every week in our Stirling store to keep up-to-date with the latest must have styles and customers changing needs.
Burtons is the destination for Men. Sells Jeans, T-Shirts, Leisurewear, Knitwear, Outerwear, Casual shirts, Suits, Formal, Trousers and shorts, Socks and underwear, Shoes, Gift and gadgets, Accessories etc.
Formal Suits and Kilts are available to hire.
01786 464961
---
Ernest Jones
Ernest Jones is the diamond and watch specialist. Whether you are choosing a gift for someone special or a well earned treat for yourself, a piece of jewellery will be cherished forever. Ernest Jones offers a wide range of jewellery and gifts to suit every occasion.
01786 470674
---
Everything Everywhere
Telecommunications
Orange and T-mobile join forces as Everything Everywhere.
EE is the UK's most advanced digital communications company, with superfast 4G mobile and fibre broadband services.
0845 0971889
---
Fat Face
Ladies Fashion / Mens Fashion
It all began in 1988, two friends were desperately trying to avoid working for a living and were enjoying all that the French Alps had to offer. The life was way too good to end too soon... but money was running short. A plan was needed.....sell their campervan, buy a stack of t-shirts, create some cool designs and sell them at night in a bar! That way they could ski during the day, stick around till Spring then head for the beach.
Derived from the toughest downhill run in Val d'Isere, Le Face was the main inspiration behind the brand name, teamed with the word 'phat/fat' meaning 'good'. Fat Face had been born!
Five years later Tim and Jules decided it was time for an official Fat Face store, so they bought a shop in Fulham which was an instant success. It also served as the head office and warehouse, all beneath the shop on Fulham Road.
Fat Face has grown a bit since then, with a few more stores; 179 in fact! And they're still growing....
Fat Face designs clothing for those who love to get out there, that's built to withstand the demands of an active lifestyle. The ranges offer a wide variety of clothing for men, women and kids as well as gifts, accessories and footwear. Throughout the summer months they also produce the holiday shop selection, which offers all the must haves for having fun in the sun!
As a brand that is constantly evolving, for 2010 Fat Face has redesigned many of the lines including a new and improved fit across many of the products. It has also launched an entire new denimwear range as well as introducing new prints, patterns and graphics in order to appeal to a wider market.
However what hasn't changed is the brands ethos to encourage people to be active, go on adventures (whether they are indoor or out!), make memories and have stacks of fun. Fat Face prides itself in its cheeky and non conformist outlook, whilst urging people to not take themselves too seriously and most importantly to live life to the absolute full.
01786 445301
---
The Fragrance Shop
Health Beauty & Wellbeing / The Fragrance Shop is one of the UK's leading fragrance retailers. Each store offers the very best branded fragrances at incredible value.
Choose from top brands such as Armani, Calvin Klein, Dolce & Gabbana and Lacoste or much loved celebrity fragrances by David and Victoria Beckham, Beyonce and Justin Bieber to name a few!
All fragrances are sourced direct from the fragrance houses ensuring fantastic value and the very best quality of products. Fully trained fragrance advisors are on hand to answer any specific questions and offer you the very best in service. The team are happy to talk you through the huge range of products and provide testers so that you can be sure that you are getting the right fragrance.
01786 463890
---
Fraser Hart - Jewellers
Fraser Hart is the UK's leading independent jewellery retailer. Our commitment is to offer our customers, attractive, desirable top quality products at very competitive prices.
Here at Fraser Hart we have an extensive range of 9ct, 19ct and platinum diamond rings, a fine range of quality watch brands, Omega, Rado, Oris, Longines and Raymond Weil. Branded jewellery such as Links of London, Lovelinks and our new range Hoxton cufflinks.
We are here to provide a world class service, providing an outstanding customer experience on every occasion.
Our wish is to be the heart of every celebration.
01786 469375
---
Fuel Juice Bar
Fuel is a new healthy fast food concept that will have you looking fantastic, feeling fabulous and bouncing off the walls with energy. Fuel is about healthy fat free smoothies, freshly squeezed juices, super fuel health shots, wheatgrass shooters and lots of tasty little bars (and balls) of energy.
01786 470355
---
Garage Shoes
Footwear & Accessories
Whether you're wanting cheap shoes for a wedding, the office or to party the night away Garage Shoes cater for both every occasion and every budget.
Garage Shoes is one of the UK's leading ladies shoes & ladies boots fashion retailers.
01786 463810
---
Goldsmiths
Jewellers
Goldsmiths No1 retailer of jewellery, diamonds, watches and more. With a huge range of brands including Omega, Tag Heuer, Armani, Rado and Longines.
Visit our store today
01786 470700
---
Greggs
Greggs plc is the UK's leading bakery retailer, specialising in sandwiches, savouries and other baker-fresh food on the go. From humble beginnings as a single bakers shop, we now have over 1,400 Greggs shops throughout the UK. Whilst our shops and products have evolved over time, we have remained loyal in our commitment to provide baker-fresh, quality food on the go.
01786 470394
---
H Samuel
Jeweller with an extensive range of great value diamond jewellery, branded watches, collectibles and great gift ideas. Sells brands like, Fossil, Chelsea, Ben Sherman, Play Boy, 2 Blue etc.
01786 465018
---
H & M
Children's Wear / Footwear & Accessories / Ladies Fashion / Mens Fashion /
Opened January 27th with Miss UK 2010 first in the queue...
01786 430920
---
HMV
Unit 73 The Thistles HMV is the UK's leading retailer of music, DVD's and Games. Merchandises CD's, DVD's Games, Books, Magazines, T-shirts and accessories.
01786 460640
---
Holland and Barrett
Holland and and Barrett is the UK's leading Health Food Retailer. Offer High Quality Natural Health products, including Vitamin/Mineral Supplements, Herbal Remedies, Sports Nutrition products and a wide range of Healthy Foods.
01786 465350
---
Inglot
Health Beauty & Wellbeing
Inglot work with make-up artists and colour consultants to bring the latest trends in colour, texture and form to the market. They are constantly developing new products and have just launched the world's first ever Breathable Nail Enamel ensuring better health care for nails whilst enhancing their beauty.
---
Internacionale
Ladies Fashion
Internacionale sells young women's fashion and accessories.
01786 478731/449612
---
Jack & Jones
Mens Fashion
---
JD Sports
Children's Wear / Footwear & Accessories / Ladies Fashion / Mens Fashion / Sports & Outdoors /
JD Sports is a sport fashion retailer, offering the latest products in footwear and apparel to all genders.
When you come to JD we will deliver you the Best of the Best. We only have the Best gear from the Best Brands. We always take pride in bringing you more exclusive footwear and clothing using only the best materials with exceptional attention to detail.
We work with the Best Brands to bring you elite styles that are only available at JD - You simply cannot find them anywhere else.
01786 478961
---
Les Cygnes
Enjoy the Continental Coffee Shop experience in our shop in The Thistles centre in the beautiful city of Stirling. We have a large menu of hot and cold food, sumptuous cakes and the best coffee in Scotland.
01786 469767
---
Let's Eat
Variety and Food
01786 461652
---
Lush
Health Beauty & Wellbeing
With summer on its way, it's time to scrub and prime those pins for lovely legs you'll want to show off all summer long. With a little help from Lush, you'll be wearing shorts and skirts in no time
Scrub those pins... and the bumpy bits on arms too, and reach smooth skin heaven with Lush's Sugar Babe body scrub . Made with moisturising coconut oil and scented with ylang ylang and mimosa blossom, say goodbye to dry flaky skin and hello to gorgeously soft legs.
Soften that skin... with Lush's Coco Lotion. Inspired by the Caribbean, it is the ultimate summer body cream. Containing fresh pineapple juice, extra virgin coconut oil, mandarin and rosemary infusion, Coco Lotion - with no added perfume - smells naturally beautiful. Perfect for all skin types,including sensitive skin, smooth lashings of this lovely cream all over your legs and body for toned, brightened and super smooth skin.
Tan those legs... with Lush's fabulously scented body tint Charlotte Island. Once those legs are scrubbed and moisturised, use this lovely fruity bronzer to build a healthy glow with no sunlight involved. Made with organic lemon infusion, Fair Trade cocoa butter to smooth and organic Aloe Vera Gel to hydrate, you'll soon feel like you've been sunning yourself on a tropical island - perfect for baring those legs in your new summer dress.
To pick up these and many more ethical, cruelty free cosmetics, visit Lush stores nationwide.
01786 475190
---
Marks and Spencer
From footwear, to accessories, evening wear, leisurewear and the latest in the ground-breaking Autograph and Per Una ranges Marks and Spencer caters for all the family. The restaurant serves a great selection of hot and cold drinks and meals.
01786 450909
---
The Marches Restaurant
---
Menkind
Speciality
---
Millie's Cookies
Millies Cookies sell a variety of cookies, muffins, ice creams by Baskin Robbins and beverages such as Bold Breezers.
01786 472594s
---
Mini Club
Children's Wear
mini club is an exciting new clothing brand available exclusively in larger Boots stores nationwide. Boots and Mothercare have worked together to develop the mini club range, which is inspired by traditional classics and offers contemporary, stylish and beautifully designed clothes for children from newborn to six years.
Inspired by traditional classics, mini club clothes are contemporary, stylish and beautifully designed for children from 0-6.
All at affordable prices.
Visit us inside Boots for more information...
---
Muffin Break
Variety & Food / Muffin Break is a unique cafť bakery, straight from Australia, that offers an irresistible combination of quality/gourmet coffee and freshly baked cakes, slices, quiches, sandwiches, paninis and of course, muffins! Everything is baked and prepared on the premises using quality ingredients, so you can be assured its always fresh.
More than muffins, highly trained bakers use traditional recipes for home baked style cakes, slices, cookies and scones. Fresh from the oven, these taste sensational. The cafe also carries an extensive savoury range perfect for lunch, a take home dinner or catering requirements, including freshly baked quiches, soups, sandwiches and more.
The Muffin Break coffee blend was developed exclusively and designed to complement the food range. The quality blend is made from 100% Arabica beans, sourced from premium growing regions, and roasted exclusively for Muffin Break.. Each coffee is prepared by trained Baristas to ensure you receive the perfect cup every time.
---
Next
renowned for fashionable and distinctive design that is comfortable to wear offering consistency of style. Not forgetting the little ones, Next provides a trusted Children's wear department, where newborns right through to 16yr old girls and boys are catered for. You'll find a good selection of underwear, nightwear, swimwear and footwear too.
01786 460040
---
o2
Telecommunications
Check out the very latest in mobile communications from WAP technology, ring tones, text messaging services and tariffs. The most up to date product range around with a knowledgeable sales team who can help make the right choice.
01786 479 256
---
Oasis
Footwear & Accessories / Ladies Fashion
Oasis is a top ladies high street fashion store, offering something for every occasion whether it is work, casual or that little party outfit. They offer high quality clothing but at a very competitive price.
Check out the great accessory ranges too.
01786 479099
---
Optical Express
Opticians
Optical Express provide Spectacles, Contact Lenses, Laser Eye Surgery and Designer Sunglasses.
01786 449567
---
The Officers Club
Mens Fashion
The Officers Club is a leading Mens wear retailer. Sells Shirts, T-shirts, Jeans, Shoes, etc
01786 451967
---
The Perfume Shop
Health Beauty & Wellbeing / Offers huge variety of fragrances for everyone. They offer top designer brand names including, Lacoste, Hugo Boss, Calvin Klein and many more, at a great competitive price.
01786 849187
---
Pandora
Jewellers
---
Phones 4 U
Telecommunications
Phones 4 U stock all of the latest handsets and have access to all network solutions from Vodafone, O2, Orange, T Mobile and Virgin Mobile. Expert staff are on hand to offer free independent advice.
01786 462640
---
Pizza Express
Variety & Food
Phones 4 U stock all of the latest handsets and have access to all network solutions from
---
The Post Office
Cards and Gifts / Speciality
The Post Office is located within WHSmith, on Bastion Mall within the centre.
1786 450489
---
Poundland
Everything one pound
---
Primark
Primark aim to give the customer unbeatable value by offering fashion and quality at the best price. Primark carries a full range of departments: Womenswear, Lingerie, Childrenswear, Menswear, Footwear, Accessories, Hosiery and Home so their is something for all the family.
Primark has several brands, which include Atmosphere, Secret Possessions, and Primark Essentials.
01786 430415
---
Quiz
Quiz has all the latest fashion looks. Whether it is something special for going out or something sporty Quiz has it all. To compliment our great fashion ranges we also have a superb shoe and accessory collection. If you want to stand out in the crowd check out your QUIZ store now
01786 475015
---
River Island
River Island offer the latest trends in fashion to distinguish individuality in style across the nation for both male and female.
For formal dressing there's a range of keenly priced suits plus accessories for guys including belts socks and sunglasses. For girls find the very latest in fashion with casual ranges, swimwear, accessories and fashion shoes and boots.
01786 478307/478308
---
Savers
Wide range of toiletries, household products and a selection of cosmetics at affordable prices.
Unit 29 The Thistles
01786 849240
---
Schuh
Schuh is the UK's leading stockist of branded fashion and life style footwear for both males and females. They aim to provide inspirational but accessible fashion footwear, sold in a unique and exciting retail environment at prices which represent value for money.
01786 473275
---
Select
Footwear & Accessories / Ladies Fashion
Select is one of the most exciting women's fashion brands on the high street today.
01786 450502
---
Sports World
Sports and Outdoors
Offers finest sports brands at affordable prices. Sells sportswear for Men, Women and Children's.
0870 333 9502
---
Stormfront
TV and Audio
Come and have a chat with one of their experienced Apple experts. They'd love to show you the latest Apple products and accessories to help find what's right for you.
0800 612 1044
---
Superdrug
Superdrug is a leading health and beauty retailer and combines quality with exceptional value for money in both branded and own-brand products.
01786 449479
---
Superdry
Ladies Fashion / Mens Fashion
Inspired by a trip to Tokyo in 2003, Superdry fuses design influences from Japanese graphics and vintage Americana, with the values of British tailoring.
The result - unique urban clothing, with incredible branding and an unrivalled level of detailing. Such distinctiveness has gained the brand exclusive appeal, as well as an international celebrity following.
Superdry.com sells safely and securely to over 300 countries worldwide, offering great customer service and a hassle-free returns policy.
Superdry also has 43 standalone UK stores, as well as concessions in 48 department stores, including Harrods and Selfridges London. Internationally, Superdry has stores across the USA, Australia, Europe, South America and Asia.
01786 440023
---
Thorntons
offer a range of high quality confectionery for the very young - i.e. chocolate lollies, bars and gifts - to all age groups. Sells chocolates, ice-cream, toffees, fudge, traditional sweets, chocolate bars, children's chocolate and sweets, chocolate models
01786 474900
---
Topman/Topshop
Topshop has become a retail phenomenon, with a distinctive personality and individual brand mix, hailed in newspapers and fashion magazines for bringing innovation and style to the high street. Selling an average of 30 pairs of knickers a minute, 6,000 pairs of jeans a day and 35,000 pairs of shoes every week, it's an unrivalled, iconic brand. Blending cutting edge style with purse-friendly prices, Topshop attracts women from their teens to the 40s searching for a weekly fashion fix.
01786 446486
---
Trade Secret
Trade Secret is the perfect spot for people who like to experiment and try the latest beauty products. This all-in-one retail store and full-service salon offers exceptional beauty treatments and products at value prices.
01786 450810
---
Trespass
Sports and Outdoors
Trespass are specialist outdoor retailers. Offers outdoor clothing and accessories for Men and Women.
---
Up and Running
Sports & Outdoors
Your local running specialist - helping you all the way to make every step count.
01786 478698
---
USC
USC is the No.1 retailer of branded clothing, footwear and accessories housing top brands such as Diesel, G-Star, Firetrap, Miss Sixty, Replay, Henri Lloyd, Ted Baker and Lacoste. The business also prides itself on the USC denim heritage and continuously works to improve and diversify the range of premium denim on offer.
0844 3325064
---
Vision Express
Vision Express is committed to providing its customers with the best eyewear solution, tailored to their individual needs. Eye examinations are carried out in-store by a qualified optometrist. Examinations are tailored to ensure you receive the best personal care. If your eye examination determines that you do require a prescription for glasses or contact lenses, then Vision Express has a superb range to choose from including designer frames, such as, Calvin Klein, Belushi, Chloe and Dolce and Gabbanna.
01786 479074
---
Vodafone
Worldwide provider of mobile telecommunications. Offers contract and pay monthly phones, business sales and accessories.
---
Warehouse
Warehouse brings up to the minute clothes and accessories to women who love fashion and shop for the hottest trends.
01786 469327/469216
---
Waterstone's
For the latest bestseller, cookery book or even antique guide, Waterstones has a vast range of books in its library like setting. Big on pre-school books and childrens' titles, there's always special offers running.
01786 478756
---
WH Smith
WH Smith sells stationery, magazines, books, greeting cards, gifts, videos, DVDs, CDs, computer games and electronics. The range of stationary, cards and magazines is impressive, and it offers good value for books, music, films and games.
You can also find the Post Office on the first floor.
01786 470399
---
Zara
Children's Wear / Footwear & Accessories / Ladies Fashion / Mens Fashion
Zara offers the latest trends in international fashion. Its the ultimate ladies, children's and mens wear store with immaculate tailoring, luxurious knitwear, beautiful evening wear and stylish co-ordinated casualwear for all seasons.
01786 433180
---
Warren James
Jewellers
---